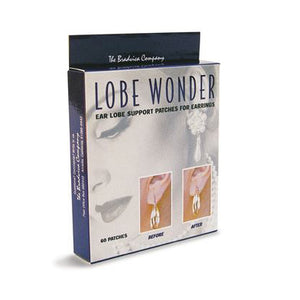 Lobe Wonder Support Patches work to repair the appearance of torn damaged and stretched ear lobes instantly!
Each self adhesive oval patch is super-reinforced with a criss-cross network to strengthen and support ear lobes.
Your ear lobes will look natural not stretched and dragged down by the weight of heavy earrings.
Worn behind your ear lobe these invisible patches are the perfect remedy to the problem of heavy pierced earrings tearing.
60 ct. box

"I can't BELIEVE how well these patches work! One of my ear piercings is a bit stretched out, so my heavier studs kind of droop forward in the hole... it looks terrible. I actually stopped wearing earrings for about three years before I found these. This little patch totally solves the problem"